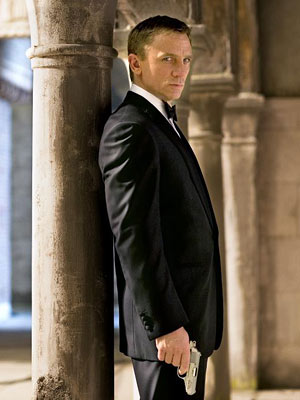 Profile
Name
: Daniel Craig
Birth Name:
Daniel Wroughton Craig
Height:
5' 11''
Sex:
M
Nationality:
British
Birth Date:
March 2, 1968
Birth Place:
Chester, Cheshire, England, UK
Profession:
Actor
Education:
Hilbre High School in West Kirby, Wirral, UKGuildhall School of Music and Drama (graduated in early 1990s)
National Youth Theatre
Husband/Wife:
Fiona Loudon (married 1992, divorced 1994 )
Relationship:
Satsuki Mitchell (U.S. film producer; reportedly dating 2005), Heike Makatsch (German; acress; born on August 13, 1971), Kate Moss (supermodel; briefly dated)
Father:
Tim Craig
Mother:
Carol Craig
Sister:
Lia Craig
Step Father:
Max Blond
Claim to fame:
Portrayed Alex West opposite Angelina Jolie in Simon West' Lara Croft: Tomb Raider (2001)
Biography
Daniel Craig was born in 1968 in Chester, England. He grew up in Liverpool, but moved to London when he was 16. Here, the aspiring thespian trained at the National Youth Theatre and graduated from the prestigious Guildhall School of Music and Drama. Daniel Craig made his motion picture debut in 1992 with The Power Of One. In the film directed by John Avildsen, Daniel Craig had the bit-role of Sergeant Botha. Over the last few years, he's moved into rather high-visibility projects, being seen as bad guy Alex West in Angelina Jolie's videogame adaptation Lara Croft: Tomb Raider, and rubbed shoulders with Hollywood's acting aristocracy -- Paul Newman, Tom Hanks, Jude Law -- in Road To Perdition, where Daniel Craig played Newman's son, Connor Rooney.
But Daniel Craig's real claims to stardom have only popped up in the last couple of years, with some very ambitious projects. In the biopic Sylvia, Daniel played the poet Ted Hughes with wonderful delicacy, perfectly complementing Gwyneth Paltrow in the title role. Plaudits were heaped on Daniel Craig after his work in Enduring Love, a fine adaptation of the Ian McEwan novel where Craig masterfully essayed the difficult role of Joe. And then came Layer Cake (left), the Matthew Vaughn smash British hit. One of those cult ensemble comedies in the Guy Ritchie genre, it made leading man Daniel Craig, playing the bizarre character XXXX, a household name across Britain.
The smoke has cleared over the enigmatically shrouded movie house, and EON Productions has virtually confirmed their new James Bond. The words Daniel Craig are crowding search engines globally even as you read this. Keeping in step with tradition, the new 007 is an obscure actor from the British isles, nearly unknown to the rest of the world. Here's a quick guide to knowing MI-5's newest recruit: the secret agent beyond compare, the ruthless womaniser we so helplessly love, the alcoholic Aston Martin driver we are all jealous of.
Filmography
Actor
2008 Bond 22
2007 The Visiting
2007 The Golden Compass
2007 The Invasion
2006 Renaissance
2006 Infamous
2006 Casino Royale
2005 Fateless
2005 Archangel
2005 The Jacket
2005 Munich
2004 Layer Cake
2004 Enduring Love
2003 Sylvia
2003 The Mother
2002 Copenhagen
2002 Ten Minutes Older: The Cello
2002 Road to Perdition
2001 Lara Croft: Tomb Raider
2001 Sword of Honour
2000 Some Voices
2000 I Dreamed of Africa
2000 Hotel Splendide
1999 Love & Rage
1999 The Trench
1998 Elizabeth
1998 The Ice House
1998 Love is the Devil: Study for a Portrait of Francis Bacon
1997 Obsession
1996 Moll Flanders
1996 Kiss and Tell
1995 A Kid in King Arthur's Court
1993 Sharpe's Eagle
1992 The Power of One
Awards
British Academy Awards
2006 Best Actor Casino Royale
Independent Spirit Award
2006 Best Supporting Actor Infamous
Trivia
* CASINO ROYALE's earnings of $448 million have made it the highest grossing Bond film in history.
* Was voted the sexiest man alive a poll by Durex Play. (2006)
* Says that his portrayal of James Bond makes the agent more human and fallible. (March 30, 2006)
* Made the admission that he never wanted to play James Bond after receiving hate mail from hardcore fans of the spy franchise. (March 10, 2006)
* Is reportedly unable to take the heat of the Bahamas where he is currently filming for CASINO ROYALE. (March 1, 2006)
* Reportedly stunned the CASINO ROYALE's crew when he asked them to supply him with an array of pampering products such as wet wipes and baby lotion. (March 1, 2006)
* Stunned James Bond bosses when he couldn't drive 007's classic car. (February 23, 2006)
* A group of James Bond fans launched a website to protest against Craig replacing Pierce Brosnan in CASINO ROYALE.
* Had two teeth knocked out during his first fight scene in CASINO ROYALE. (February 20, 2006)
* Has urged producers to cast Sienna Miller as his love interest in CASINO ROYALE. (January 6, 2006)
* Hated James Bond when he was a child, according to his mum.
* Has been confirmed as the next James Bond. (October 15, 2005)
* Has been reportedly picked to be the new James Bond in CASINO ROYAL, replacing Pierce Brosnan. (April 8, 2005)
* Said he was terrified when he was told that he would have to perform an intimate scene with a much older woman in THE MOTHER. (August 19, 2004)
* Gwyneth Paltrow had to remove her shoes when filming scenes in SYLVIA because Craig is much shorter than she is.
* Denied rumors he was dating supermodel Kate Moss. (2004)
* Said he was so nervous during his first meeting with ROAD TO PERDITION castmates Tom Hanks and Paul Newman that he couldn't physically find the words to answer their friendly questions. (November 26, 2004)
* Said he felt more at home in Britain than in Hollywood. (2004)
* Lived in London with German actress Heike Makatsch. (2001)
* Named as one of European films 'Shooting Stars' by European Film Promotion. (2000)
* Has fear of flying.
* Loves Rugby.