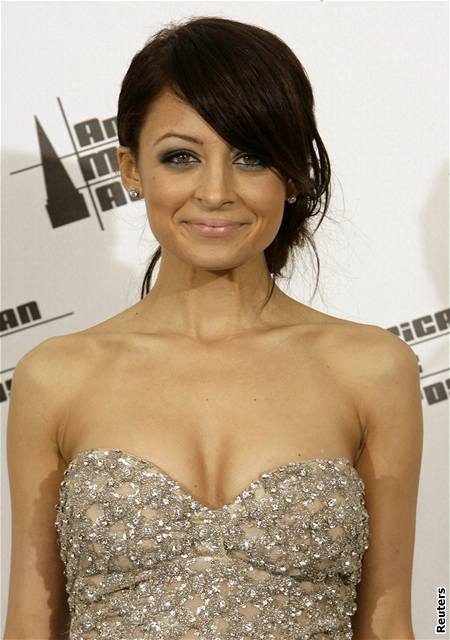 Profile
Name:
Nicole Richie
Birth Name:
Nicole Camille Escovedo
Height:
5' 2"
Sex:
F
Nationality:
American
Birth Date:
September 21, 1981
Birth Place:
Berkeley, California, USA
Profession:
actress, musician
Education:
Montclair College Prep School, Van Nuys, California
Buckley School, Sherman Oaks, California (with Paris Hilton)
University of Arizona
Relationship:
Brody Jenner (dated August 2006 - October 2006), Adam Goldstein (Disc Jockey; dating since early 2004; engaged on February 8, 2004; separated on May 22, 2006), Elijah Blue Allman (actor; son of Cher; born on July 10, 1976)
Father:
Lionel Richie (musician; born on June 20, 1949; adoptive father)
Mother:
Brenda Harvey-Richie (born on September 2, 1952; adoptive mother)
Half Sister:
Sophia Richie (mother: Diane Alexander)
Half Brother:
Myles Brockman Richie (born on May 27, 1994; mother: Diane Alexander)
Claim to fame:
co-star with Paris Hilton in Fox's reality series The Simple Life
Biography
Born Nicole Camilla Escovedo on September 21, 1981, Nicole Richie was initially raised by her father, Latin percussionist Peter Escovedo III. Since her father was a member of Lionel Richie's band, Nicole often attended gigs and recording sessions where she quickly became the group's mascot. At age 3, Escovedo allowed Nicole to move in with Lionel and his first wife; six years later he surrendered his paternal rights when the Richies formally adopted her.
Surrounded by music as a child, Nicole learned to play the cello, violin, and piano. Her godfather is Michael Jackson. She graduated from Montclair College Prep School and attended the University of Arizona. In February 2003 Nicole was arrested for heroin possession and driving with a suspended license. She pled guilty, was given probation, and went through rehab. That same year she joined her then best friend Paris Hilton in the reality series The Simple Life in which they lived for one month with a family in Arkansas. In later seasons, the two socialites took a road trip across the United States and performed various internships.
Nicole is working on a book based loosely on her life and plans on releasing a CD. She is engaged to deejay Adam Goldstein.
Filmography
2006 The Simple Life: Season 04
2005 The Simple Life: Season 03
2005 Kids in America
2004 The Simple Life: Season 02
2003 The Simple Life: Season 01
Awards
Year - 2005
Award - Teen Choice Award Choice
Category - TV Personality: Female
Result: Nominated
Trivia
* Is embarrassed about the fuss surrounding her fainting incident on the set of the The Simple Life - because she only spent 10 minutes in hospital. (March 27, 2007)
* Richie and Paris Hilton are going to be camp counselors in the new season of The Simple Life. (March 23, 2007)
* Has allegedly collapsed on the set of The Simple Life for the second time, slowing down production on the series and causing fresh tension with co-star Paris Hilton. (March 22, 2007)
* Richie and rocker boyfriend Joel Madden are getting serious about their romance - they've exchanged rings. (March 12, 2007)
* Was sent to a Los Angeles hospital and treated for dehydration after feeling ill on the set of the reality TV show The Simple Life. (March 2, 2007)
* Pleaded not guilty to a charge of driving under the influence after she was stopped last year for going the wrong way down a freeway. (February 20, 2007)
* Was charged with driving under the influence of alcohol and drugs, two months after police arrested her and said she was driving the wrong way on a Los Angeles freeway. (February 17, 2007)
* Was arrested and charged with driving under the influence of drugs after she was spotted driving the wrong way on the 134 Highway. (December 11, 2006)
* Fired her stylist Rachel Zoe and is now working with Penelope Cruz's stylist Cristina Ehrlich. (November 27, 2006)
* Denied rumors that she underwent a gastric bypass which caused her to lose too much weight. (November 16, 2006)
* Her publicist denies reports circulating on the Internet that she collapsed while out at a Los Angeles nightclub. (November 1, 2006)
* Has checked into a treatment facility to find out why she cannot gain weight. (October 28, 2006)
* Has reunited with feuding friend Paris Hilton. (October 2006)
* Admits she looks too thin in some photos, but when she looks in the mirror, she thinks she look "okay. (September 14, 2006)
* Is slowing mending his damaged relationship with father Lionel Richie, after years of drug abuse and lies ravaged their bond. (September 13, 2006)
* Blames her skinny body on being over-stressed, a condition which killed her appetite. (August 18, 2006)
* Lost her camera while attending a karaoke night with friends at Guys nightclub in Hollywood and is now terrified the pictures will be leaked onto the internet as the camera reportedly held nude and semi-nude pictures of the socialite. (August 3, 2006)
* Richie and Jeff Goldblum were rumored to be dating - despite a 30 year age gap. Richie had previously confessed to having a teenage crush on Goldblum (July 11, 2006)
* Admitted she loves having a modest chest - because she doesn't need to wear a bra.
* Says she has never watched former best friend Paris Hilton's sex tape because it would 'gross' her out. (May 16, 2006)
* Denies reports that she has an eating disorder and claims that although she is extremely thin, she's very healthy. (April 21, 2006)
* Has a wild new pet - an exotic Bengal cat. (April 11, 2006)
* Has struck back at director Kevin Smith's claims that she had sexual encounter in a bathroom with his friend Jason Mewes. (March 28, 2006)
* Irritated a family during taping of The Simple Life 4 in Castaic neighborhood of Los Angeles by asking an 11-year-old boy, in graphic language, if she looked attractive. (March 20, 2006)
* First tried cocaine at the age of 14. (November 7, 2005)
* Is set to inherit her father's $200 million fortune. (2005)
* Graces the cover of the November 2005 issue of JANE magazine.
* Was ridiculed by media members who claimed that she had an eating disorder. She has lost about 20 pounds, weighing a mere 97 lbs., since her rise to stardom in 2003 with The Simple Life 1. (2005)
* Had a falling out with co-star and former best friend Paris Hilton. (2005)
* Was offered and accepted the chance to star in The Simple Life (2003) with her pal Paris Hilton after Nicky Hilton turned it down.
* Publicly spoke out in defense of Jackson following his accusations of child molestation. (December 2003)
* Was arrested in Malibu, California, and charged with possession of heroin. She has since been through rehab. (February 2003)
* Along with Tara Reid, Paris Hilton, Nicky Hilton, Bijou Phillips, Kimberly Stewart and Lindsay Lohan one of Hollywood's most famous Party girls.
* Sometimes Credited As: Nicole Camille Richie
* At a Los Angeles Lakers game, Richie jokingly mentioned that her favorite player was Kobe Bryant and said I want to have sex with him. Bryant is married and was about to be tried for rape in Colorado. The charges against Bryant were later dropped.
* Attended the University of Arizona at the same time as professional basketball player Luke Walton, actress Heather Blair and reality TV star Kourtney Kardashian.
* Biological father is Peter Michael Escovedo.
* Doesn't have her license on account of being in rehab from drug abuse.
* Following the 2003 Billboard Music Awards, the Federal Communications Commission received 80,000 complaints after Richie said f-word and was not bleeped. This was the FCC complaint record, until it was broken following Janet Jackson's appearance at Super Bowl XXXVIII.
* Natural hair color: Blonde
* Was adopted by Lionel Richie and his wife Brenda Harvey. The adoption was finalized when she was 9.
* Has 9 tattoos: 2 wings on her shoulder blades (1 wing on each side), a cross on her lower back, a bow with Richie below it on the back of her neck, a Rosary on her ankle, the word virgin on her right wrist, a tiara on her hip, a shooting star on her left wrist, and a picture of a ballerina on her lower hip.
* Has two dogs, a shih tzu named Honey Child and a Pomeranian named Foxxy Cleopatra, after Beyonce Knowles's character in Austin Powers in Goldmember.
* Her biological parents were Peter Michael Escovedo, a member of Lionel Richie's band and brother to '80s pop percussionist Sheila E., and an anonymous backstage assistant.
* Her dad, Lionel Richie, wrote the song Ballerina Girl for her.
* Her God mother is oil heiress Nancy Davis. (The mother of Mischa Barton's boyfriend Brandon.)
* Her godfather is Michael Jackson.
* Is 1/2 Caucasian, 1/4 Black, and 1/4 Mexican.
* Is close friends white Bijou Phillips
* Is friends with singer Fefe Dobson.
* Lost her virginity at 18.
* Nicole's ring from fiancé Adam Goldstein is a square-cut pink sapphire, framed by small diamonds.
* Is currently a member of fledgling rock band Darling along with model Josie Maran, and society sisters Soleil Alberti and Sofia Alberti. (2004)
* She's been best friends with socialite Paris Hilton since the age of two and they were classmates at the renowned private school Buckley.
* Was trained in cello, violin, piano, and figure skating.