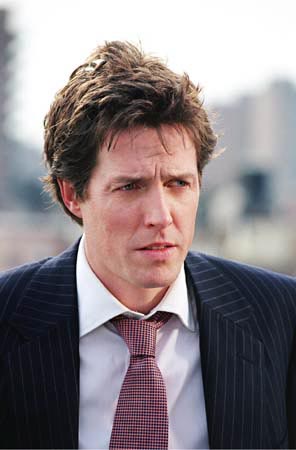 Profile
Name:
Hugh Grant
Birth Name:
Hugh John Mungo Grant
Height:
5' 11"
Sex:
M
Nationality:
British
Birth Date:
September 9, 1960
Birth Place:
London, England, UK
Profession:
actor, writer, producer
Education:
New College, Oxford University in Oxford, England (majored in Literature)
Relationship:
Jemima Khan (British socialite; ex-wife of famous Pakistan cricket player Imran Khan; dating since summer 2004; split February 16, 2007), Elizabeth Hurley (actress, model; born on June 10, 1965; together 1986-2000)
Father:
James (carpet salesman; artist)
Mother:
Fynvola (teacher)
Brother:
James (banker; older)
Claim to fame:
as Charles in Four Weddings and Funeral (1994)
Biography
Born in London, England. Floppy-haired with a trademark nervous stutter, Hugh Grant comes from a modest background; his father ran a carpet business while his mother was a teacher. He attended New College, Oxford University, as an English major but turned to acting as a creative outlet in his final year. In 1982, Grant made his screen debut in Privileged while still an undergraduate. Following some theatre and television roles, Grant appeared in the Merchant-Ivory production adaptation of E.M Forster's Maurice (1987), earning himself international recognition. In 1987 Grant also met his long-time girlfriend and Estee Lauder model, Elizabeth Hurley, they went on to form production company Simian Films together. Grant later starred in Roman Polanski's erotically charged thriller Bitter Moon (1992), as an uptight bridegroom spellbound by a wheelchair-bound passenger on a cruise ship. In 1993 Grant was cast in the Merchant-Ivory production Remains of the Day (1993).
His role as a blundering young aristocrat in Four Weddings and a Funeral (1994), the most successful British film ever, and the inhibited Reverend Campion in Sirens, propelled him to Hollywood and international stardom. The following year was certainly productive as he appeared in Jane Austen's Sense and Sensibility, quaint comedy The Englishman Who Went Up a Hill, But Came Down a Mountain, the minor An Awfully Big Adventure, Restoration, and as a neurotic father-to-be in Hollywood project Nine Months.
Grant gained worldwide notoriety later in 1995 when he was arrested for lewd conduct after soliciting the services of Los Angeles prostitute Divine Brown. Extreme Measures (1996), a film produced by his and Hurley's company, Simian Films, proved a disappointment. Grant withdrew from the public eye for a period of time before reappearing as bookshop owner William Thacker in the informal Four Weddings sequel Notting Hill (1999); the combination of Grant and Julia Roberts proved a box office success. Grant's other 1999 project was Mickey Blue Eyes, a second release from Simian Films, the film proved to be a stereotypical and stuttering comedy that failed to satisfy. Grant and Elizabeth Hurley announced their separation during the summer of 2000, but continued to work together on the Simian Films venture. 2001 saw a return to prominence for Grant with the adaptation of Helen Fielding's Bridget Jones's Diary, Hugh playing the slimy boss Daniel Cleaver with consummate relish. The role of another deceitful character from a novel adaptation beckons for Grant, in the big screen version of Nick Hornby's About a Boy (2002).
Trivia
* Hugh Grant has lost interest in acting and is heading into retirement. Grant, who plays heartthrob Daniel Cleaver in "Bridget Jones: The Edge of Reason," was quoted Thursday by the Evening Standard's Metro magazine as saying film acting is a "miserable experience."
* When he appeared in Oprah Winfrey's chat show, he mocked Julia Roberts literally big-mouthed, Branded Emma Thompson a real-life man and declared that Julianne Moore hates him. (2004)
* Hugh Grant and Elizabeth Hurley have spent the night together, after sharing an intimate meal at the model's English country home. (May 29, 2004)
* Is distraught to learn that his UN worker girlfriend Kasia Komorowicz may be spending almost twelve months in Iraq, helping to rebuild the war-torn country's computer and telephone systems. (December 30, 2003)
* Has been secretly dating United Nations worker Kasia Komorowicz for the last three years. (November 20, 2003)
* Has been teasing co-star Renee Zellweger about her weight gain for the role in BRIDGET JONES: THE EDGE OF REASON -- A source says, The minute he clapped eyes on Renee he hollered, 'My God, you're huge!' He's been carrying on with the fatty jibes ever since, but Renee laughs it off, saying at least she's supposed to be chunky." (November 4, 2003)
* Grant has shelled out $3.2 million for Melksham Court, a new house in England located near ex-love Elizabeth Hurley's country mansion. (August 27, 2003)
* After years as a bachelor, Grant said he wants to take some time off from making movies to concentrate on his romantic life -- He said he also wants to take a break from acting because it's something he's never loved, even though it's made him famous and wealthy. (April 1, 2003)
* Grant has been added to the new edition of Who's Who – he is among about 1,000 newcomers who will grace the pages of the famous red book, which is dedicated to the rich, famous and successful. (January 13, 2003)
* Grant admitts whenever he'd get a laugh on stage, he'd start laughing himself because he was so delighted," and says he never came across anyone with a worse problem until he met Sandra Bullock -- the two actors couldn't stop giggling while filming TWO WEEKS NOTICE together. (January 4, 2003)
* Grant has threatened to quit acting, so he can concentrate on his movie production company. (December 28, 2002)
* Grant and Sandra Bullock rarely spark in TWO WEEKS NOTICE -- playing, respectively, the kind of klutzy-but-clever relationship misfit and charming cad they do best, Grant and Bullock are amusing and likable, but the chemistry between the leads remains uncertain; the star pairing nonetheless should guarantee solid box office as the Warner release faces off against MAID IN MANHATTAN for the holiday romantic comedy crown. (December 19, 2002)
* Staff on the set of Grant and Sandra Bullock's new film, TWO WEEKS NOTICE, have taken to poking fun at the reported romance between the pair -- the stars themselves have constantly denied they are anything else but colleagues. (November 21, 2002)
* Grant is among A-list cast including Britney Spears and actors Ben Stiller, James Woods and Jim Belushi who re-voice the BBC's festive cartoon ROBBIE THE REINDEER for American television. (November 15, 2002)
* Grant movie ABOUT A BOY is about to become a sitcom – this summer the movie charmed critics but was only a moderate hit with audiences; still, Fox thinks the comedy, about a womanizing bachelor who strikes up an unlikely friendship with a misfit 12-year-old boy and his depressed mother, would make a fine sitcom. (November 5, 2002)
* Grant and Liz Hurley have sparked rumours of rekindled romance after staying in the same New York hotel then sneaking out for dinner together.
* He touts Sandra Bullock as the best actress he has ever worked with on a romantic comedy as both play in TWO WEEKS' NOTICE
* Says the haircut he had in ABOUT A BOY made him feel like a woman.
* Chosen by Empire magazine as one of the 100 Sexiest Stars in film history (#43). (1995)
* Was arrested for lewd conduct after cops found him with Divine Brown, a prostitute, in his car. He pleaded no contest and got a $1,180 fine and two years' probation. (1995)
* Features in the 1996 paperback Mug Shots that includes many other celebrities who've been arrested for one reason or another.
* Got his start by performing a British comedy sketch group, The Jockeys of Norfolk.
* On the set of MICKEY BLUE EYES, James Caan gave Hugh the nickname of Whippy, because Caan said he worried about everything like the little whippet dogs that get nervous and you got to put a sweater on them when they're cold.
* Opted not to do a nude scene in FOUR WEDDINGS AND A FUNERAL (1994) when a make up artist asked if he wanted definition painted on his body.
* PRIVILEGED (1982): Is an Oxford University student feature film, reputedly the first of its kind, with a very young Grant, in the leading role.
* On the international poster of NOTTING HILL, he wears a jacket, on the US poster just a sweater.
* Scenes in NINE MONTHS (1995) where Samuel (Grant) is arrested and photographed were cut from the film prior to release, following Grant's highly-publicized arrest for lewd conduct.
* The book that his character is reading as he sits on the park bench at the very end of the movie is Corelli's Mandolin by Louis de Bernières. (NOTTING HILL)
* The house in NOTTING HILL with the blue door where his character lives is real; it once belonged to NOTTING HILL screenwriter Richard Curtis (I).
* The 'movie within the movie' which he watches near the start of the movie is entitled GRAMERCY PARK is the film distribution company joint owned by NOTTING HILL's distributors, PolyGram and Universal Pictures. (NOTTING HILL)
* Turned down the role of Gilderoy Lockart in HARRY POTTER AND THE CHAMBER OF SECRETS (2002), the teacher of Defense against Dark arts.
* While making FOUR WEDDINGS AND A FUNERAL (1994), he thought the movie was awful.
* BRIDGET JONES'S DIARY (2001): While film-goers were eager to see Grant play a character opposite to his usual type-cast, it is ironic that original author Helen Fielding describes him, in real life, as being more like Daniel Cleaver, than any of his normal roles.
* Once attacked the paparazzi outside his house with an umbrella
* Directed some additional scenes for MICKEY BLUE-EYES
* Trade mark: Plummy English accent
* His production company is 'Simian Films'.
* Was voted fourth in the Orange 2001 Film Survey of Greatest British film actors.
* Usually dubbed in French versions by actor Vincent Cassel
* Jay Leno told the London Independent that there are only 18 celebrities worth having on a chat show, one of them being Hugh Grant.
* Was paid $12,500,000 for TWO WEEKS NOTICE (2002)
* Was paid $7,500,000 for MICKEY BLUE EYES (1999)
* Was paid $7,500,000 for NOTTING HILL (1999)
* Was paid $100,000 for FOUR WEDDINGS AND A FUNERAL (1994)
Filmography
Actor
2007 Music and Lyrics
2006 American Dreamz
2005 Housewarming
2004 Bridget Jones: The Edge of Reason
2003 Love Actually
2002 Two Weeks Notice
2002 Robbie the Reindeer: Legend of the Lost Tribe
2002 About a Boy
2001 Bridget Jones's Diary
2000 Small Time Crooks
1999 Doctor Who: The Curse of Fatal Death
1999 Notting Hill
1999 Robbie the Reindeer: Hooves of Fire
1999 Mickey Blue Eyes
1996 Extreme Measures
1995 The Englishman Who Went up a Hill But Came Down A Mountain
1995 Sense and Sensibility
1995 Nine Months
1994 The Changeling
1994 Restoration
1994 Sirens
1994 Four Weddings and a Funeral
1994 An Awfully Big Adventure
1993 Night Train to Venice
1993 The Remains of the Day
1992 Bitter Moon
1991 Our Sons
1990 Impromptu
1990 Crossing the Line
1989 The Lady and the Highwayman
1989 Till We Meet Again
1989 Champagne Charlie
1989 The Dawning
1988 The Lair of the White Worm
1988 The Bengali Night
1987 Rowing with the Wind
1987 White Mischief
1987 Maurice
1986 Shades of Darkness: The Demon Lover
1985 Jenny's War
1982 Privileged
Awards
Golden Globe
2002 Best Actor - Musical or Comedy About a Boy
1999 Best Actor - Comedy or Musical Notting Hill
1994 Best Actor - Musical or Comedy Four Weddings and a Funeral
Venice International Film Festival
1987 Best Actor Maurice